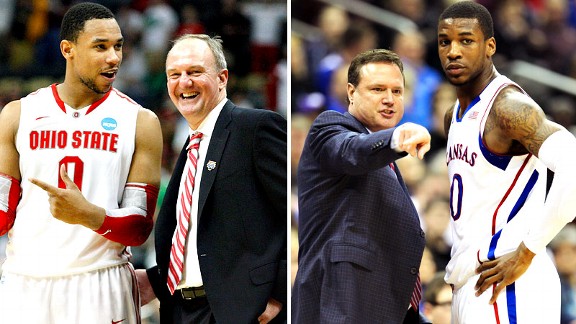 The Final Four is upon us and the basketball nation (and pretenders) are all over the Kentucky vs. Louisville matchup that will take place as the first of the two games to be played tomorrow. The Kentucky/Louisville rivalry is heated one that takes place in the state of Kentucky once a year, until this year. For the first time since the two schools started playing each other as a regularly scheduled game, the Cats and Cards will face each other in the NCAA tournament, and not just any tournament game, but the Final Four. So it's easy to see (especially those of us in the state of Kentucky) how HUGE this game is….
but what about the 'other game'…

Believe it or not but there are four teams in the Final Four, and for those of you who may not know, those other two are Ohio State and Kansas.
THIS is the game the country should be excited to see, not Kentucky/Louisville. The Ohio State/Kansas matchup will show us two of the nations top players in player of the year candidate Thomas Robinson (Kansas) and Jared Sullinger (Ohio State).
Rivalries make great headlines, but basketball is all about match-ups, and the Robinson/Sullinger one should be great. Not to mention the good guard play that both teams exhibit on offense and defensive.
Sure, Kentucky gives you 6 (possibly 7) future NBA players, and the Player of The Year Anthony Davis, but they are going up against a team that nobody (including most of their fans) thought nobody thought would make it this far. Louisville features one of the top guards in this years tournament Peyton Siva who has finally started to play within his potential and a a greatly improved Gorgui Dieng on the inside. Other than that you may not have ever heard of any of Louisville's players before if you live outside the state of Kentucky (with the exception of Freshman star recruit Chane Behanan who is also starting to play better).
This isn't to take anything away from the Cards as they have completely turned around their game since the post season and deserve to be in the Final Four just as much as any other team; but the Ohio State and Kansas players have been getting a huge lack of attention and they have a reason to be mad.
Ohio State/Kansas is the game to watch.